Fellowship report by Sangita Mohanty
I have got this wonderful opportunity to witness the mesmerizing beauty of Scotland and at the same time enhance my professional skills in the core area of my research, i.e. nitrogen management and nitrogen use efficiency, through a NEWS India-UK fellowship. I visited the Institute of Biological and Environmental Sciences, University of Aberdeen (UoA), between 01.05.2018-30.05.2018 as a honorary research fellow to work on the topic "Development and evaluation of a simple nutrient limitation crop growth model for rice and crops grown in rotation with rice" in association with Prof. Jo Smith and Dr. Dali Rani Nayak.  It was a great opportunity to be associated with the environmental research group of the UoA. Both my hosts are immensely talented having in depth knowledge of the subject, and at the same time, both of them are extremely caring and supportive. They never hesitated to go out of their way to make my stay pleasant and comfortable and my training enjoyable.
I am really elated to pen down memories of those beautiful days I spent in a fairy tale like the setting of the UoA.
My arrival, stay and training at the UOA
It was a chilling cold (temperature around 40C) night around 10 PM, when my flight landed at Aberdeen. Dr. Dali was generous enough to send her husband to pick me from the airport and drop at my university accommodation. I was welcomed by Dr. Surekha (another NEWS India–UK fellow), my room mate at my accommodation. The warmth welcome and hospitality from everybody made me comfortable in that chilling cold night and helped me overcome the anxiety of travelling to a new place.
Next day after finishing some official formalities, I was introduced to the environmental modelling research group and assigned my desk. I was amid very supportive colleagues from ICAR (Dr. Surekha, Dr. Neeraja, Dr. Anandan) as well as from the UoA so it was easy to get into the office routine and start the work as planned. The support of Prof. Jo and Dali was commendable who regularly monitored the progress of work and gave their input.  I worked on a semi empirical nutrient limitation model to be incorporated in ORATOR, in this process I learnt the basics of model evaluation, and acquainted myself with ORATOR, Roth C. I am also thankful to Dr. Abdalla, who on my request took his time to teach me to use of DNDC model. Towards the end of my training period I gave a presentation of my research work, i.e. Nitrogen Dynamics, N loss and N use efficiency in low land rice to the environmental modelling research group. The interest and the participation of the researchers in the discussion was inspiring.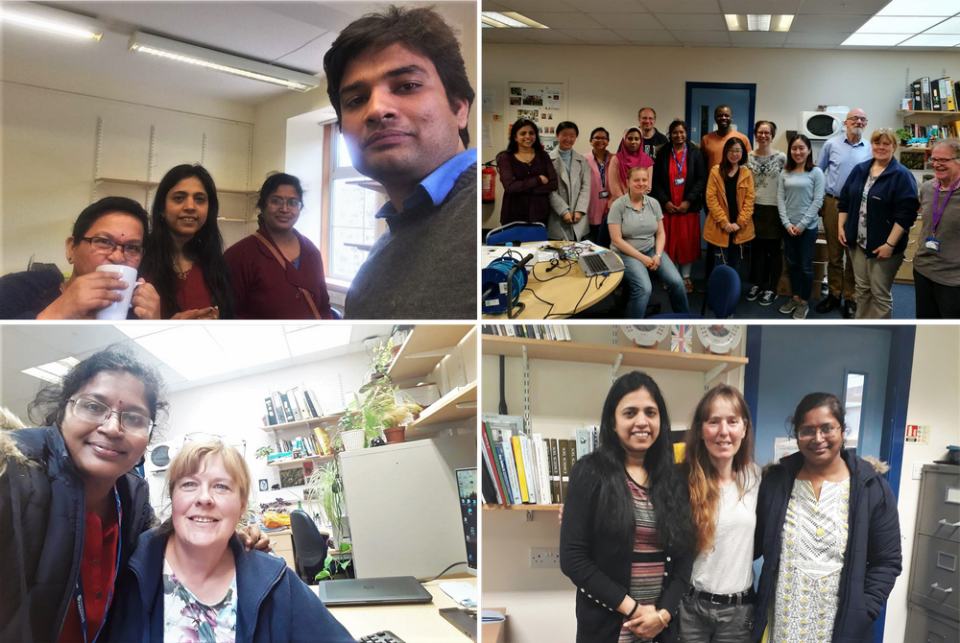 First day in the office (top left); the environmental modelling research group (top right); with Dr Anita (my old friend from Rothamsted Research) at UOA (bottom left); with Prof. Jo and Dr. Dali (bottom right).
University of Aberdeen
I was smitten by the magnificence and architectural marvel of historic buildings of the university such as the Kings College building, the St Machar's Cathedral, and the New King's Building because of which the university is among top tourist destination of Aberdeen.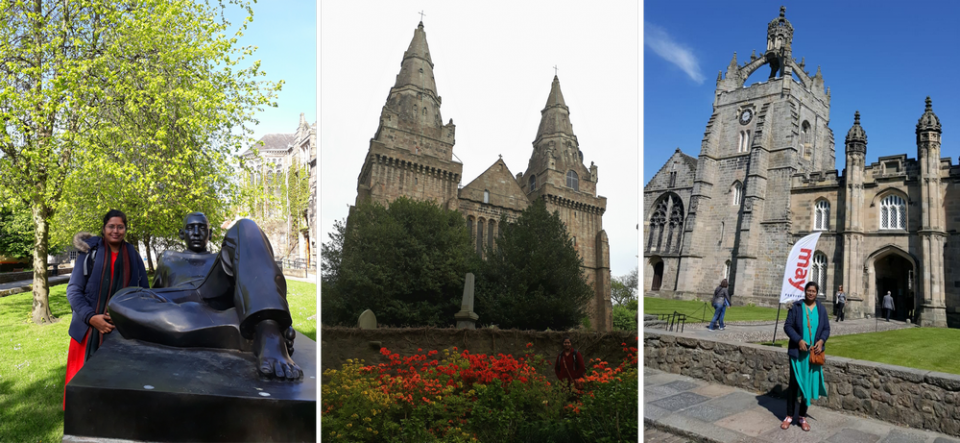 From left to right: In front of New Kings Building; St Machar's Cathedral; Kings College building.
Apart from the unique heritage buildings, the university is adorned with enchanting gardens with flowers bursting with colors and springs emerged out of fairytales. Taking a stroll in the garden and listening to the sounds of spring fill the mind and heart with tranquility and serenity. 


Some of my favourite picturesque sites of the Seaton Park of University.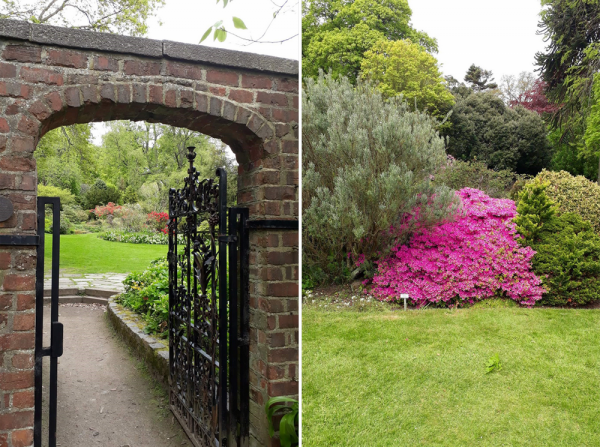 A door on the wall that leads to a beautiful garden just like in fairy tales.
This is part of the Cruickshank Botanic Gardens situated adjacent to my office. Few minutes of stroll in this garden during the lunch break is very refreshing and rejuvenating.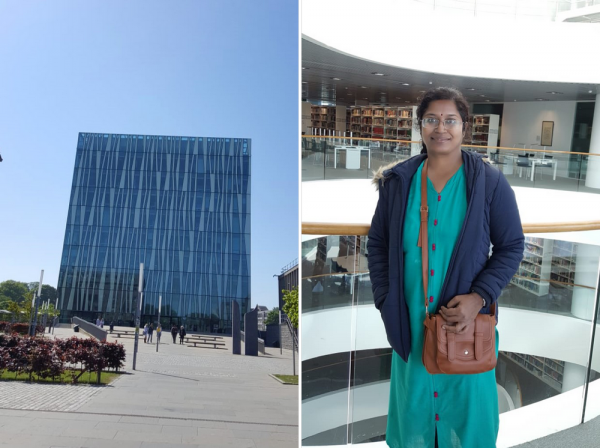 The University Library (left) and inside the library (right).
Another most spectacular landmark in the university is its huge seven storied library building. Unique architecture and modern sophisticated facilities have made this place a centre of attraction for researchers and academicians.  I am privileged to get an opportunity of spending some quality time here.
Weekend fun, outing and social events
I was fortunate enough to have a group of NEWS India-UK fellows doing their training at UoA as well as other institutes at Edinburgh (Dr. Dibyendu and Dr. Mahendra Kumar) at the same time. We could plan a trip together to Edinburgh and Glasgow in the first weekend. I am very much thankful to Dr. Tony Travis who took us in an awesome road trip to Edinburgh through the beautiful landscape of Glenshee Mountain. The beautiful enthralling sights of vast green meadows with sheep and ponies grazing around, we only saw in Indian movies before  became real in front of us.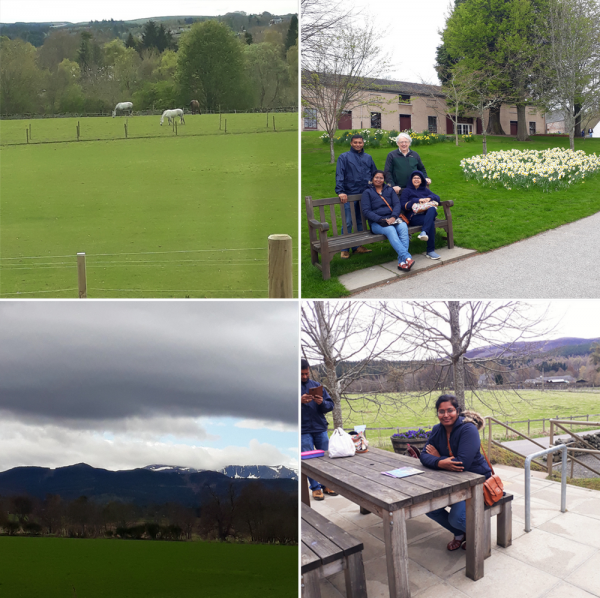 A few breath taking views of our awesome road trip to Edinburg from Aberdeen.
We had an informal meeting with Prof. Mark Sutton who invited all NEWS India-UK fellows for a tea and discussed about the future of the projects as well as about flavors of tea, it was a fun evening. Next day we did a city tour to see its magnificent architecture that dated back to historic medieval period as well as modern Georgian time. We also visited Glasgow the largest city of Scotland before our return to the UoA.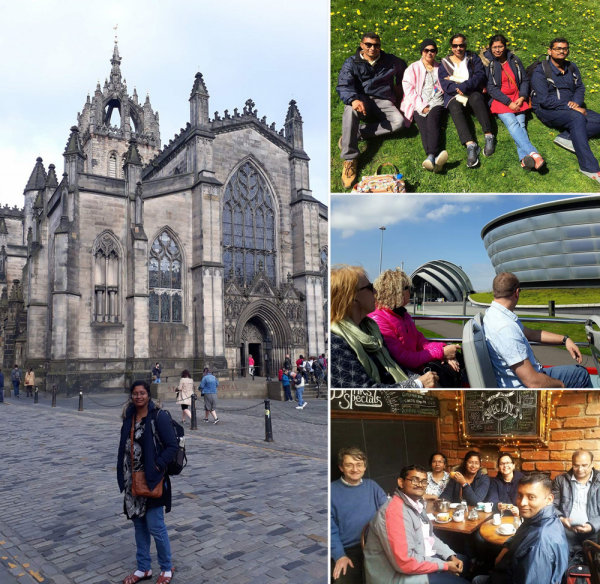 Edinburgh and Glasgow City tour.
Other weekends we were invited by our lovely hosts to a get together followed by surprise lunch. We could meet and interact with Prof. Pete Smith and other family members. After lunch, Prof. Jo took us to a beach of the North Sea where we could spot seals. During our stay we were also invited for a trip to Muir of Dinnet by the Photo club led by Prof Adam Price.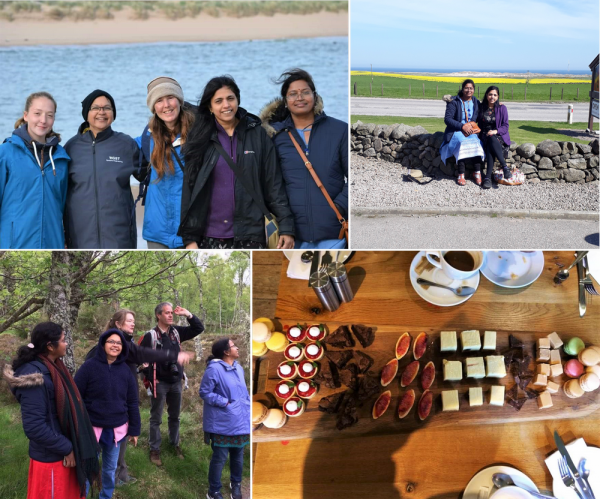 At the beach of the North Sea (top left); road side view of North sea and adjacent rape seed field (top right); photo club trip to Muir of Dinnet (bottom left); beautifully served, colourful sweets (bottom right).
Overall, I have very beautiful memories of the UOA UoA and Scotland to cherish. I was amid lovely and caring colleagues; my visit to the UOA UoA is was a fruitful one in professional front too.
Sangita Mohanty
on Tue, 24/07/2018 - 13:02

Andi Moring