Research Components
The NEWS India-UK virtual joint centre is structured through four research components (C1-C4) and an integrating component (C5) that addresses wider cooperation, training & dissemination. The research components address strategies to improving nitrogen use efficiency (NUE) at the plant, field, farm and national scale. By integrating research at these scales, a complete picture is developed and better strategies are devised.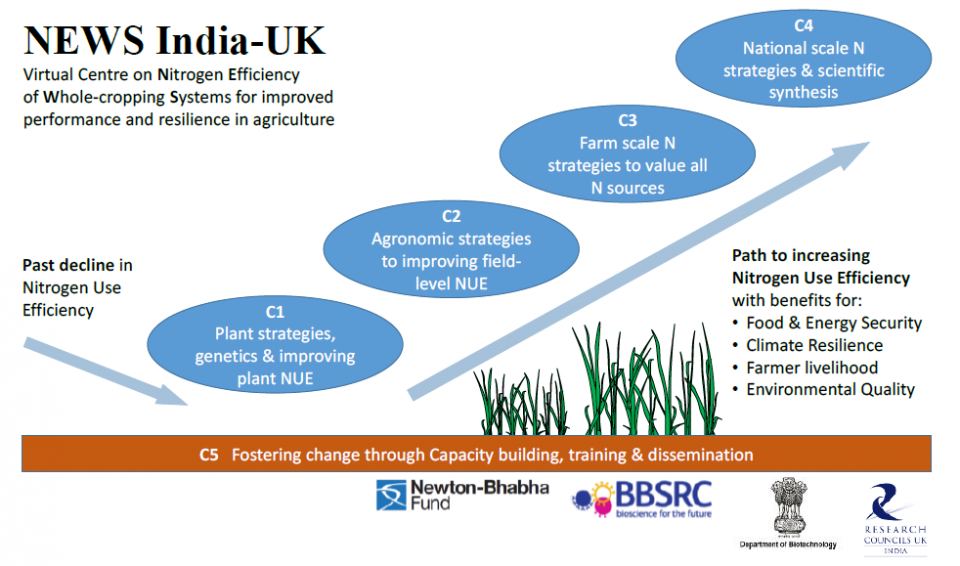 ---
C1: Plant strategies, genetics and improving plant nitrogen use efficiency
This component combines laboratory ranking of Indian rice varieties and Genetically Modification (GM) varieties with exploration of trait differences.
The main activities are:
accessing phenotype libraries for testing; 

establishment of trials comparing natural genetic variability for NUE;

examination of urea uptake processes using double isotope labelling;

studies on microbial N fixation in rice crops; and

laboratory testing of aspartate aminotransferase (AAT) overexpressed rice.
---
C2:  Agronomic strategies to improving field-level nitrogen use efficiency
This component integrates agronomic and genetic potential to improve NUE with field measurements of full N fluxes to quantify the link to reduced environmental impacts.
The main activities are:
intercomparison of N flux measurement methodologies;

permissions for use of transgenic rice in the field;

field experiments on performance NUE for different genetic material and N rates;

field experiments on agronomic improvement methods;

combined experiments linking agronomic and plant NUE improvement methods; and

intensive field experiment linking full accounting for N fluxes in relation to plant and agronomic improvement.
 
---
C3:  Farm scale nitrogen strategies, maximizing the value of all N sources
This component addresses options for better recycling of manures and use of N deposition, and examines the barriers to change.
The main activities are:
analysis of agronomic mitigation options and available N resources;   

development of farm level models and application for case farms;  

analysis of barriers to change and options to improve on farm N resource use; and

incorporation of effect outcomes (production, environmental impact, energy, food) into models. 
 
---
C4:  National scale nitrogen strategies and scientific synthesis
This component compiles data and models to establish an Indian agricultural N budget and assess the potential of future options.
The main activities are:
review of datasets needed for development of national N budget;

work to obtain and process input datasets;

development of models to establish Indian N budget; and

estimation of impacts and benefit analysis of improved NUE from plant and agronomic methods.
 
---
C5:  Capacity Building, Training and Dissemination
This component links across the Virtual Joint Centre to strengthen the research integration and build a basis for durable cooperation.
The main activities are:
establishment of Centre Communications strategy;

organizing annual centre meetings;

virtual Meeting of management board and advisory boards including agreement of approaches for Nitrogen Fellowships and disbursement of funds;

preparation of Centre publication materials on inception, interim and final results; and

preparation of scientific papers.