Fellowship report by A. Anandan
I have been awarded a senior research fellowship by the "NEWS India-UK" program to work on "Association mapping of nutrient use efficiency in rice" at the Institute of Biological and Environmental Sciences, University of Aberdeen, Scotland under the supervision of Professor Adam Price. I landed in Aberdeen on the cool evening of 15th April 2018 at 8.30 pm, and to my surprise, the sun was shining even that time. This was the first time I experienced such a long day length starting from morning 4.30 am to night 9.30 pm. I stayed at Aberdeen from 16th April to 21st May 2018 and I enjoyed the mild weather throughout my stay at Aberdeen.
On my first day, Prof. Adam Price took me around the magnificent campus and to the modernized university library, university ground, canteen within the students' association building and to the historic Chapel. The brilliant architecture really mesmerized me. It seems the beauty of nature showered its blessings on Aberdeen. Soon, hands-on training started by Dr. Tony Travis, an esteemed team member of Prof. Adam Price.  The training sessions were focused on analytical tools on Bio-Linux with various command lines, Bioinformatics and GWAS exercises. Further, I had an exposure to GWAS analyses through the PIQUE pipeline developed by the University of Aberdeen.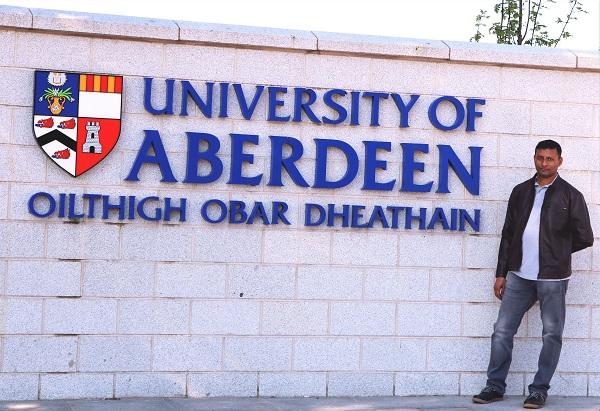 In front of University entrance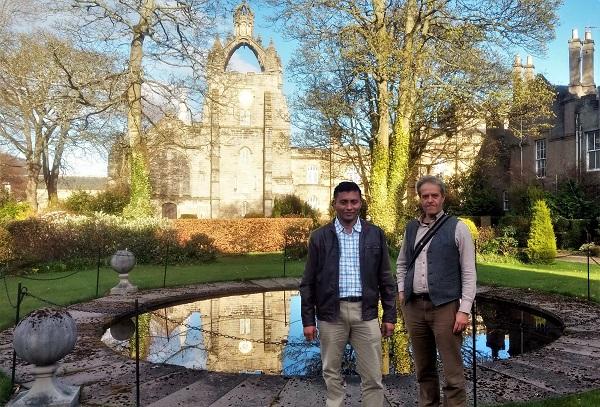 With Prof. Adam Price on a beautiful evening
Prof. Adam Price and his team (Dr. Tony Travis and Dr. Partha Talukdar) helped out to understand the GWAS analysis with the data generated at the University of Aberdeen as well as from experimental data generated at ICAR-NRRI related to seedling vigour under low N.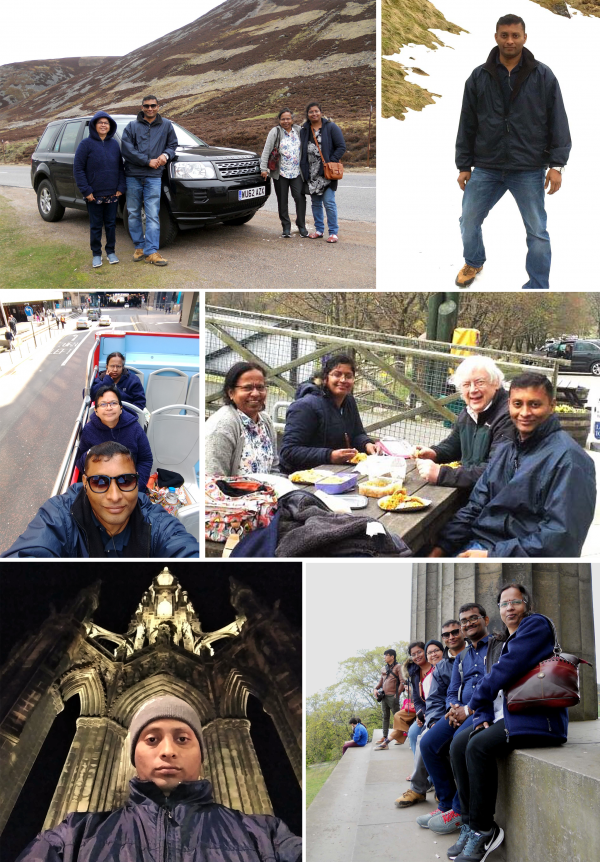 Photos from Glenshee, Crathie Kirk Church, and from our trip to Edinburg.
Scotland is a land of mountain wildernesses, valleys (glens) and lakes (lochs).  On the weekends we visited Sea beach, Union Square, Edinburgh, Glasgow, and Lochness. As decided, we the NEWS fellows (Dr. Neeraja, Dr. Surekha Kuchi, Dr. Sangitha Mohanty and myself) met Dr. Mark Sutton and the other NEWS fellows at Edinburgh. Dr. Tony took us from Aberdeen to Edinburgh by road and on the way, showed beautiful blunt ice-covered mountains of Scotland, the Crathes Castle, the Crathie Kirk Church located in a small village of Crathie, the place of worship of the British Royal Family.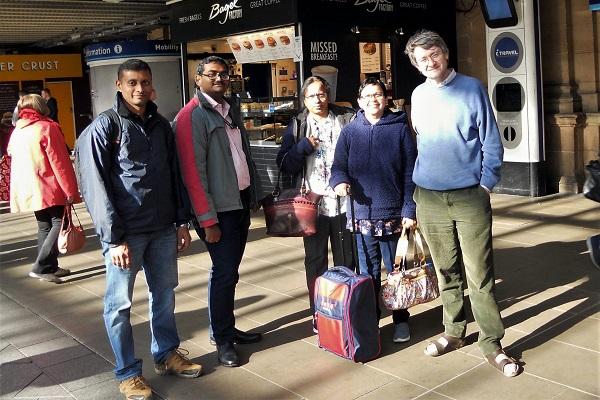 Meeting with Mark and the other NEWS fellows in Edinburgh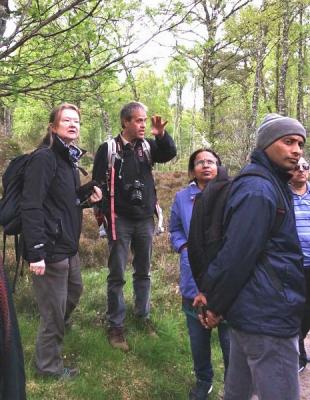 At Muir of Dinnet with Prof. Adam and his colleagues
On another weekend of our stay, on behalf of the photo club, Dr. Adam Price arranged a short trip to Muir of Dinnet, National Natural Reserve. There, we had an opportunity to see the artificial islands made by prehistoric peoples in middle of the lake. On the way, he took us to a small hilltop Tomnaverie Stone Circle to watch the evening sunset. Really, we enthralled, an amazing trip by Prof. Adam to the NEWS fellows.


Colourful recipe cherished with Prof. Adam, Dr. Tony Travis, and Dr. Partha Talukdar
Dr. Tony and his wife took me and my fellow scientist Dr. Neeraja, to a restaurant, Food story, where we relished pure vegetarian dishes and enjoyed the company of also Prof. Adam Price. I often used to amaze the beauty of the city and friendly nature of Scottish people.  Even, I enjoyed moving within this historic Granite City by bicycle. On the last weekend of our stay at Aberdeen, Prof. Adam has invited us for a grand lunch at his home and offered us with mouth-watering dishes. The lemon and poppy seed cake prepared by Mrs. Adam was really mouth watering and still lingering in my mouth!  Later he had taken us to Newburgh beach where we could witness the huge herd of seals and enjoyed the sand dunes too located nearby.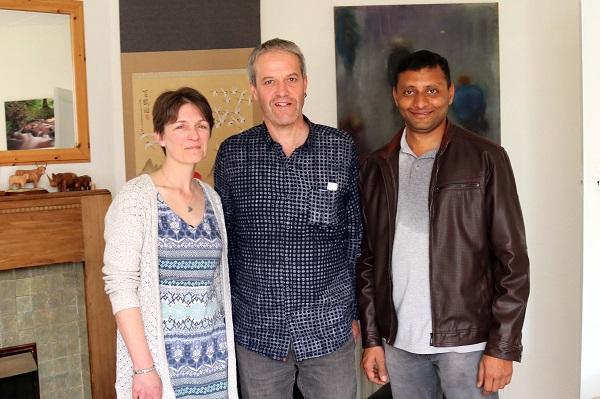 With Prof. Adam Price and his partner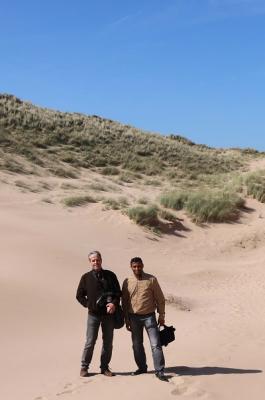 At Newburgh beach with Prof. Adam Price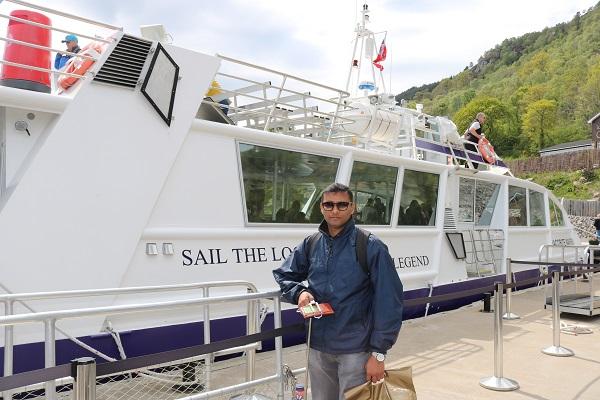 The Cruise in the lake Loch Ness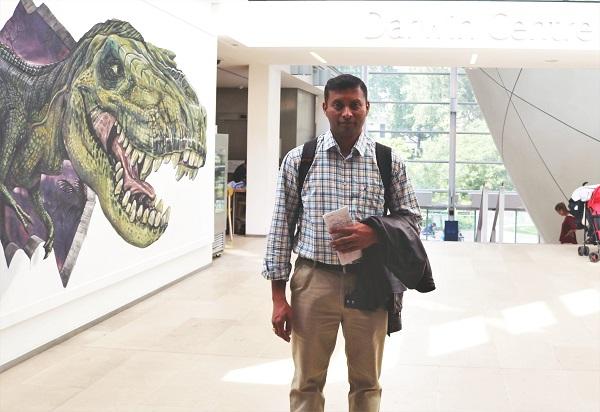 At Darwin Centre in the Natural History Museum, London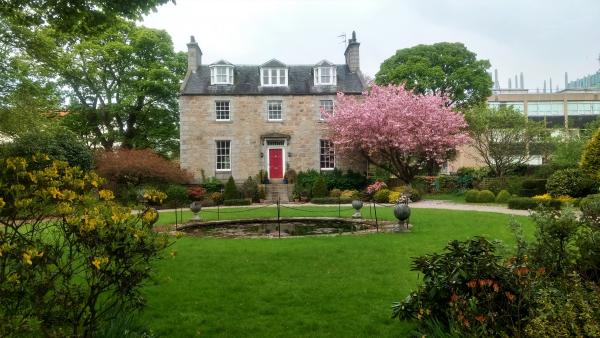 Breathtaking view of my accommodation at Aberdeen
I really admire the pragmatic approach of Prof. Adam and his passion towards research which greatly increased my respect for him. All in all, the NEWS India-UK fellowship revitalized me academically; inspired me to chase my research objectives. Particularly, GWAS and downstream bioinformatic analysis on data generated at ICAR-NRRI helped me to identify genes related to low N, in turn, helped me to fulfil the objective of NEWS India-UK fellowship. Over and above, I am satisfied with the incredible experience throughout my stay at the University of Aberdeen and I am really grateful to "NEWS India-UK" for providing me this fellowship. Thank you!
A. Anandan
on Tue, 19/06/2018 - 15:57

Andi Moring